Murchison falls is Uganda's largest national park with over 450 recorded bird species which has enabled a lot of birding activity in the national park, Murchison falls being the best place to find the prehistoric looking shoebill stork with a lot more different bird species can best be guaranteed on a popular launch cruise on the Victoria Nile up to the Albert delta and a lot more boat trips to Murchison falls national park has been one of the greatest since it enables you to sight many water associated birds ,Albertine endemic birds and Savannah birds alongside the wildlife at Murchison falls national park.
The park harbours a lot of bird species some which are commonly seen and others are rare but there is a possibility you can sight them. The Gray crowned crane (Uganda's National bird), Giant Kingfisher, Giant Heron, Shoebill stork, Abyssinian Ground Hornbills, Nightjars, Marabou stork, Black headed lapwing, Back-bellied Bustard and many more.
The visitors who have a lot of interest in the birding activity, Murchison falls national park would be the park site for this activity due to large number of bird species, you can best spot the birds during the game drives and nature walks  around the park would be ideal for you to sight the birds around the savannah grasslands at a close range. The boat cruise on the Nile and the Albert Delta is the best to sight water birds around the shores of the lake and the River banks like the Silver birds, Weaver, king fisher, river king fishers, Grey crowned crane, Senegal thick knee, Black headed Lapwing and many more.
The best time for birding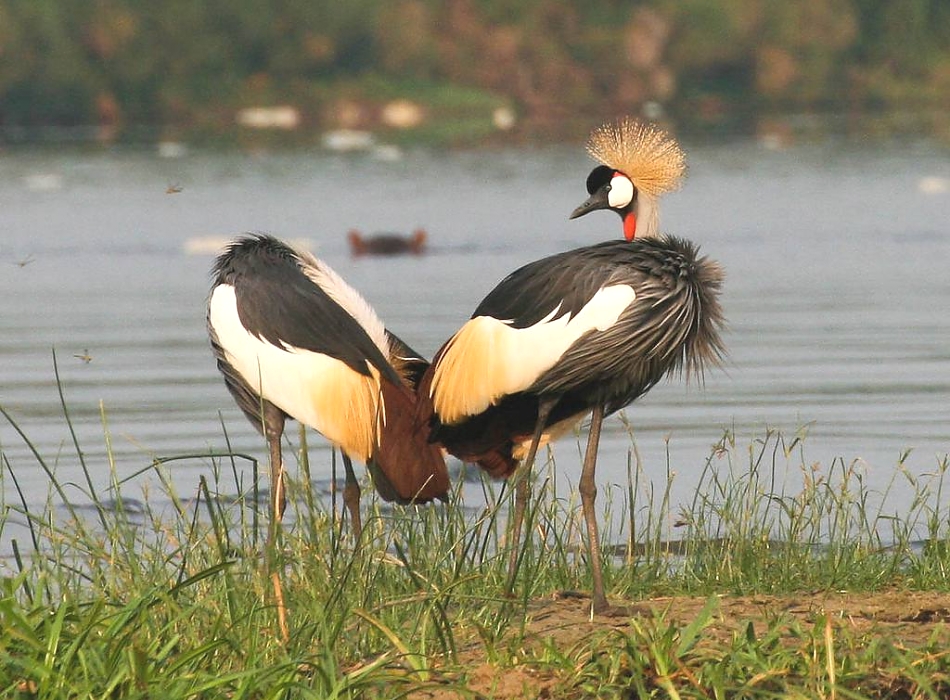 Birding in Murchison falls national park can best be done through out the year but time of the year would be the dry seasons of the month from January to march this is the time when there is a low concentration of tourists in the national parks in Uganda known as the low seasons .But there is also a possibility that from December to February the activity can still be done although the rains begin, but still birding activity is possible, you can also visit from November to April.
Bird species found in Murchison falls national park
Grey-headed Kingfisher
Veracious Dove
Black-headed Lapwing
Abyssinian Ground Hornbill
Rock Pratincole
Yellow-fronted Tinkerbird
Black-billed Barbet
Long-tailed Nightjar
Weaver Birds
Yellow-billed Stork
Martial Eagle
Silver bird
Grey crowned crested crane
Sandpipers
Pied Kingfishers
Standard-winged Nightjar
Malachite Kingfishers
Blue-headed Coucal
Denham's Bustard
 Swamp Flycatcher
Giant Heron
African Jacana
Secretary Bird
Read-throated Bee eater
Saddle-billed stork
Senegal Thick-Knee
Red winged Grey Warbler
Shoe bill
Murchison African Darter
Giant Kingfisher
Osprey
Long-toed Plover
For more information on birding safari to Uganda Murchison falls, contact us at adventure in the wild safari, we will be able to respond to all your questions. Visit Murchison falls and enjoy the memorable birding safari to Uganda.