Chobe safari lodge Murchison falls national park
With spectacular views together with the great sounds of the mighty waterfalls make Chobe safari lodge one of the best places to spend your holiday most especially those on a honey moon. Chobe lodge is situated in Murchison falls national park in Uganda one of the great and biggest park, the location of the lodge offers visitors a great opportunity to view number of animals right from the lodge area. The lodge offers all best quality designed standards with luxury facilities to meet the high standards to give you the great meaning of luxury. you will have the great time at Chobe safari lodge.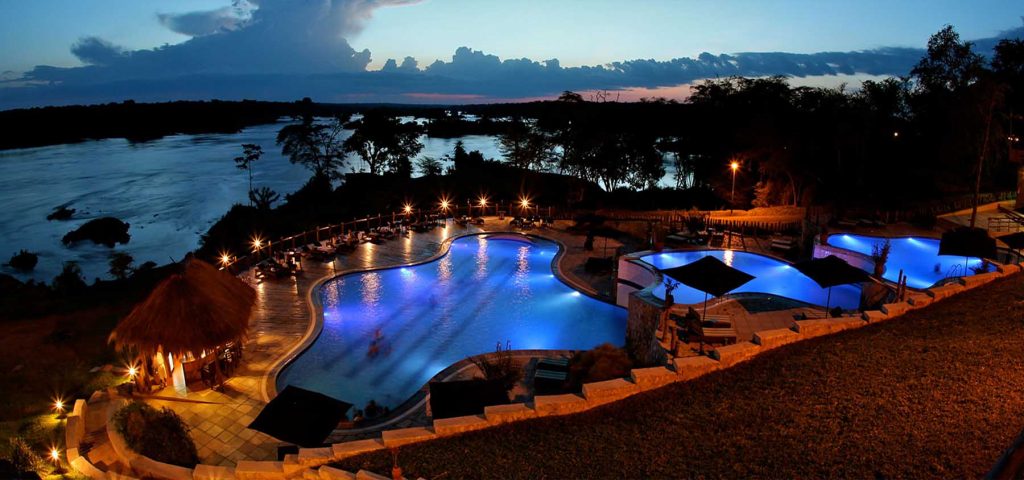 The lodge is a five-star lodge and being one of the best treasures of the tourism industry in Uganda. the lodge offers services ranging from accommodation facilities designed from African style with availability of 36 specious guest rooms, suites and luxury tents and presidential cottages with all the rooms overlooking the great river Nile with abundant wildlife in the water this gives you an opportunity to view game including the hippos, Buffalo and many more which is one of the great adventures.
The lodge offers outdoor swimming pool where guests usually relax after a long day activity at the forest. They cool out in the swimming pool and relax at beautiful environment around. With quality facilities and services from the staff is of high professions to give you the best of your stay at the lodge.
The lodge is at the centre of the Murchison falls national park and driving distance from Kampala the capital city of Uganda is only 3hrs drive by road to Chobe safari lodge.
Chobe has a provision of a conference hall for all your meetings and weeding receptions with all the necessary quality facilities you need.