Murchison falls national park is the biggest and oldest national park in Uganda and located at Murchison Falls Conservation Area.  This area is composed of Bugungu and Karuma Falls Wildlife Reserve and covers an area of 3,840 square kilometers.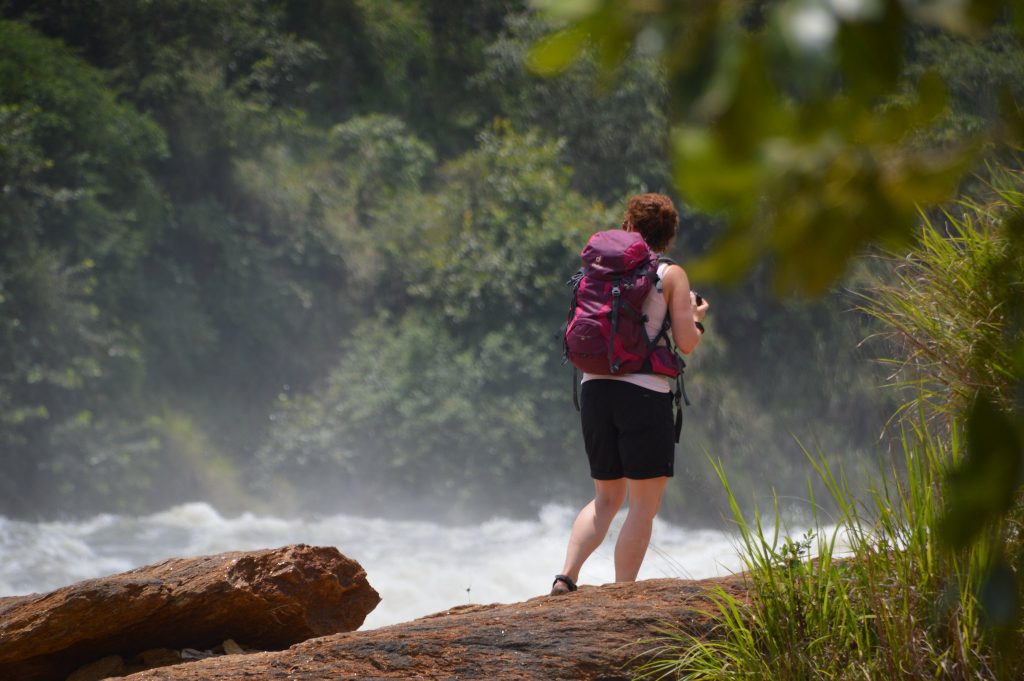 Murchison falls National Park is home to 76 mammal species, 455 bird species, primates like olive baboons, pattas monkeys among others. The park harbors 4 of the big Fives including lions, leopards, Elephants and Buffaloes and other impressive game like the oribis, hyenas, antelopes, waterbucks, warthogs, Jackson's Hartebeest, hippos, crocodiles, mongoose and giraffes. Some of the bird species at the park include Fish eagles, Denham's Bustard, Bee-eaters, Kingfishers, Abyssinian ground hornbill among others.
Murchison falls is a waterfall found on the course of the great Nile. This waterfall in this park is the strongest in the world as it forces itself through a rock of 7 meters and topples of 43 meters below the thunderous roar forming a residual water stray that forms a beautiful rainbow.
The park is acknowledged for receiving prominent international visitors including Winston Churchill-the man who is accredited for having done activities like boat cruise, cycling along the Nile corridor of the falls and hiking. Other vital visitors include Queen Mother in 1959, Edward VII in 1930, the British royals and The Prince of Wales.
Activities carried out in Murchison falls national park.
Murchison falls is one of the places not to miss out while on your Uganda safari because of the various species of birds, butterflies, trees, mammals, primates as beautiful sceneries like the lake and the waterfall.
Game drives.
The park is composed of woodland, wetland, savannah as well as the tropical rainforest and these are habitats for animals such as lions, elephants, waterbucks, oribis, kobs, leopards, hyenas, buffaloes, Rothschild's giraffe among others. There are many trails that can be followed when tracking for these animals such as Common wealth Victoria, Common Wealth Albert, Albert track, Victoria track, Buligi track, Queen's track, Pakuba track among others.
Boat cruise.
The Launch trip begins at Paraa landing area where River Nile enters into Lake Albert. The 3 hour boat takes you to the bottom of the thunderous and strongest waterfall in the whole world. You will get the chance of clearly seeing the hippos, crocodiles, water birds such as Fish eagles, Kingfishers, bee-eaters, Shoe bill and other animals that collect at the water source in the evenings.
Bird watching.
Murchison falls national park protects over 455 species of birds including the Black-headed Batis, Chestnut-crowned Sparrow-weaver Black-headed Gonolek, Silver bird, Bluff-bellied Warbler, Green-winged Ptyilia, Spotted Mourning Thrush, Bee-eater, Kingfishers, Nightjars, African skimmer, White African fish eagle, Grey crowned crane, Goliath Heron among others.
Fishing.
Fishing is not so common in Murchison as many clients opt for boat cruise and game drive. The fishing activity takes place above and below the fall and a certain amount of money is paid before practicing it. Make sure that you carry your own fishing equipment as they are not provided to visitors when in the park.